Bruno Lauer Book Review
About Bruno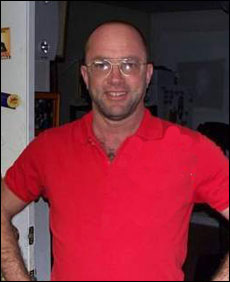 2007
Bruno Lauer
Aka "Downtown Bruno" & "Harvey Wippleman". To purchase a copy of Bruno's book, click HERE.
Bruno Lauer Book Review
I got "Downtown" Bruno Lauer's book in the mail this past Saturday. When I ordered it, I didn't know what to think about it. I remembered back 2 decades, when Bruno showed up in Memphis, but had no clue as to what story he had to tell (or more importantly, whether it would be interesting to read). Scott Teal, the book's editor, posted a few excerpts on his website and these helped me to feel like Bruno's story was worth my time.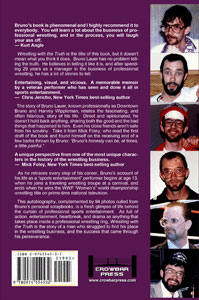 Over the past few days, I read all 256 pages and am glad I did. To my surprise, it's a fascinating read. I found myself drawn into Bruno's story. I now understand why he used the title, "Wrestling With The Truth". It's because Bruno is very frank and discusses some hard times and situations. First up is how he got his big start in the business at the tender age of 13. In this day and age, with all the rules, regulations and laws, you quickly realize different things were back in 1979. While not wanting to ruin the specifics, unbeknownst to his parents Bruno joined a wrestling show at a traveling carnival (and was gone 3 days before calling his mother, lol).

The book does a great job illustrating the final days of the regional territories. By the late 1980s, WCW and WWF had taken over almost all the wrestling across the US. The opportunities for work were getting slimmer and slimmer. If it had been a decade earlier, there was more work than you could shake a stick at. As you read Bruno's story, you realize the "glory days" of territories across the country were quickly becoming memories and work had all but dried up.

If you've been a fan of wrestling for the past quarter of a century, you are already aware of the wrestlers who have pasted away, well before they should have. Bruno talks about some of these. What really struck me was all the times that Bruno nearly died, none were in the ring. Some of those times were at the hands of his good friend Sid Vicious, (you'll have to read the book to get the whole stories). Maybe the name Psycho Sid should have stuck with Sid, lol. Another serious story covers the wreck that killed wwe ref, Joey Marella, (Bruno was asleep in the back seat). The last thing I'll say about this is these guys were supermen inside the rings, outside the ring, they were mortals and it caught up with them.

Bruno also shows his loyalty, to his friends and to the people who sign his check. Many younger people probably won't understand that statement, but to anyone born before 1970, you're only as good as your word. If you tell someone something, you do it. Bruno did everything he could to protect wrestling, in the days of kayfabe. On the flip side, and I commend him for this, Bruno shows his faults as well. He doesn't hide his struggles with alcohol, redneck friends, etc.

I mentioned big Sid earlier, but someone else he talks about at length is Rocky Johnson, who he worked with in Hawaii, (before his time in Memphis.) This also leads to some very entertaining stories about Bruno hanging out with a 14 year old, Dwayne Johnson, who would later become know to the world as the "The Rock". They are friends to this day, and the Rock even wrote the book's foreword.

Another person that Bruno talks is Lord Jonathan Boyd. Memphis fans probably remember Boyd as one of the Kiwi Sheepherders. The Kiwi's had huge feuds with the Fabulous Ones and years later with Jeff Jarrett. As Bruno explains it, Jonathan was instrumental in him having a career in wrestling. Bruno's friendship with Jonathan, followed by Boyd's later decent is hard for him to explain, but Bruno tells it all from his heart, (and you can feel his pain

While some people may want to sweet coat things, Bruno doesn't and tells exactly what he thinks about the people he's dealt with over the years: Eddie Gilbert, Bill Dundee, Paul Heyman, Bruce Pritchard, Jerry Lawler, Robert Fuller, Eddie Marlin, Jerry Jarrett, Tojo Yamamoto, Hulk Hogan, Paul Diamond, Billy Travis, Kurt Angle, Undertaker, Shawn Michaels, Steve Austin, Roddy Piper, Vince McMahon, HHH, Scott Hall and many, many more.

All in all, I highly recommend you pick up a copy of this book. Some of the stories are funny, some are sad while some will make you mad. It's a great ride through the final days of what used to be the regional wrestling territories. It also walks you through the emergence of a new world of wrestling superstars (The Rock, Steve Austin, Shawn Michaels, Undertaker, etc). Whether you are totally "old-school" in your wrestling, or if you prefer the new stuff, "Downtown" Bruno transcends both eras and delivers the goods with a highly entertaining book.