Jimmy Valiant Book Review
About Jimmy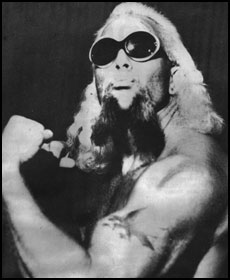 2007
Jimmy Valiant
Because of my website and my books, over the past few years I've had the honor of getting to know Jimmy. No one's better than Jimmy.
Jimmy Valiant Book Review
I was emailing with Jimmy Valiant this week and he asked if I'd mind telling all of you about his book. All he had to do was ask! First up, I bought my own copy of the book and loved every page of it. Jimmy's story really is an amazing one and you get it all. Jimmy doesn't pull any punches and he's honest about his own shortcomings. This book is a must read in my opinion.





Without a doubt, Jimmy Valiant was one of the most loved wrestlers ever to wrestle in Memphis. Proof of this is a poll I did in Dec of 2007. It was a tournament that had 32 Memphis wrestling legends facing off. The final match ended up being Jerry Lawler vs Jimmy Valiant.

Here's some info from Jimmy's website: Come read of a man who rose from humble Tennessee beginnings to legendary international superstardom in professional wrestling. One of a select few WWE Hall of Famers. Before Hulk Hogan, before Ric Flair, before The Rock there was "Handsome" Jimmy Valiant. Indulge yourself in his intriguing tales of the dark side of professional wrestling. Read about one of the most charismatic true wrestling icons to ever climb into a ring…. none other than the Boy from New York City. Get an intimate glimpse at Valiant's personal life and his relationships with other wrestlers, friends, family and fans.

Handsome Jimmy was a classic villain during the sixties and seventies and was one of wrestling's top box office draws. In the eighties and nineties he reinvented himself to become the ultimate crowd pleaser. Watch his transformation from Handsome Jimmy to the Boogie Woogie Man and the carnage left behind from the wild bloody brawls. Jimmy Valiant was perhaps the most colorful bad-good guy character in mat history, influencing the likes of "Superstar" Billy Graham, Jesse "The Body" Ventura and Diamond Dallas Page, plus, many more.

He is a worldwide celebrity and one of the most famous and beloved entertainers in wrestling history. He has captured the hearts of wrestlers and fans alike, which may be his greatest achievement. Jimmy Valiant made an imprint on the world of professional wrestling unequaled to any other.

One thing that you can say about this kind, generous, loving and awesome man is "If you become a friend of Jimmy Valiant you become a friend for life." That statement alone says so much about his character. This statement is so true about Jimmy.

The Jimmy Valiant experience was forty-years in the making and will motivate and encourage you. It takes examples of his personal and professional life and shows how to stay positive through the bad and often challenging times. Jimmy has done things his way throughout his forty-year career in the wrestling business by being a little different from the rest. He stood out and thrilled fans from all walks of life. Believe me, this book is a movie in the making.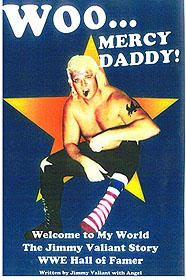 How do I get the book?
The only way that fans can get a copy is from Jimmy Valiant personally, at his home address:
BWC
2916 Alleghany Springs Road
Shawsville, VA 24162

Or, also through Jimmy's website HERE.

The U.S. price if ordered on site is $35.00 + $10.00 S & H. Total $45.00 money order only payable to Jimmy Valiant. Or, it can be purchased at BWC any Sunday from 12 'til 4 p.m. for only $35.00. Either way it will be personally autographed by Jimmy Valiant.

The book has 566 pages. Titled "Woo...Mercy Daddy! Welcome To My World The Jimmy Valiant Story." Written by WWE Hall of Famer Jimmy Valiant with Angel.