Professional Wrestling Ratings 1973-1986
Ratings Book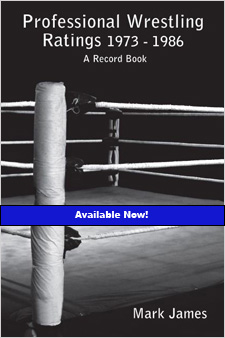 11 May 2012 |
The Book Is Available Now!
MWH's new book has been released and is available from Amazon. Use the links below to purchase it today.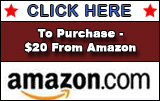 If you want to purchase a copy of the book with paypal, click the link below. The cost is $20 (plus $5 S&H). US orders only. International orders please contact me first! These books usually ship out in 1-2 business days.

Click below to order Internationally!
Use the link below to order this book from my publisher. My publisher ships all over the world so all international orders can go through them.



Professional Wrestling Ratings 1973 - 1986


Professional Wrestling Ratings 1973 - 1986, by Mark James

MWH's latest book is a record book looking back at the professional wrestling ratings from its glory days that took place 1973 through 1986. The unofficial monthly top ten ratings included are for the AWA, NWA, WWWF, Tag Teams, Most Popular & Most Hated. Also included in these ratings are the titles that each person in the top ten held each month Some of the magazines I used were: Pro Wrestling Illustrated, The Wrestler, Inside Wrestling, Sports Review, Sport Review Annual, Wrestling Yearbook, Wrestling Superstars, Best of The Wrestler, Wrestling's Greatest Battles, The Wrestler Annual, Wrestling Revue, Wrestling News, Wrestling World, Championship Wrestling, Major League Wrestling, The Ring Wrestling Magazine, Big Book of Wrestling, Ringside, Wrestling Monthly, Wrestling Guide, Wrestling Today, Wrestling Power, Wrestling All-Stars, Complete Wrestling Round Up, Wrestling Guide, Double Action Wrestling, Wrestling's Main Event and many more.

Step back in history to one of professional wrestling's most successful times, 1973 through 1986. It was a time when wrestling was happening in every major city in the United States. This book documents the best wrestlers of a forgotten time when professional wrestling matches filled local high school gyms, American Legion Halls and small town arenas. Before the days of sports entertainment there was professional wrestling and the fans loved it. This record book compiles the champions and monthly top ten ratings for the AWA, NWA, WWWF and Tag Teams. Also included are the ratings for the most popular wrestlers as well as the most hated. Get ready to learn who the best wrestlers in the world were back in this classic era.

Mark James, author for Professional Wrestling Ratings 1973 - 1986 says, "When I was a kid, I couldn't wait to see the monthly ratings. In the days before cable TV, it was the only way I knew of to keep up with the wrestling world."

Professional Wrestling Ratings 1973-1986 (214 pp.) is available now! It is priced at $20.00 and is available in print at AMAZON.COM as well as the publisher's WEBSITE. For our international fans, please go HERE to order your copy of his book. The book is also an e-book on Amazon an can be found HERE

The author is available for interviews and book signings.

Contact: mark@memphiswrestlinghistory.com