Memphis Wrestling History Vol 2: The Programs 1972-1976
MWH Vol 2 Book
Click cover to purchase book on Amazon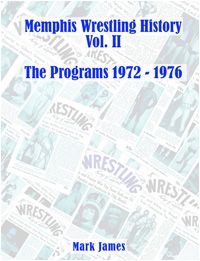 Comments
by Jerry Jarrett
Looking at the programs was a bit emotional for me. It brought back such great memories. Your book helps me relive those great memories.
by Tim S. Dills
What a fabulous resource for any fan of wrestling the way it was! Program after program of those fabled Monday night cards interspersed with recent comments and classic photos from many of the Memphis legends. Here it is all in one place. Mark James has produced not only a great resource but a timeless keepsake for wrestling nostalgia fans everywhere.
Back In Publication After Six Years!
Just Re-Released! Same Content As the Original Version.

This second book from MWH highlights the programs that were sold at the wrestling matches every Monday night. The book focuses on the years of 1972 thru 1976 and features the changing of the guard in that wrestlers like Jackie Fargo, Tojo Yamamoto, Al & Don Greene were passing the torch to a younger generation of wrestlers. They were passing the business to men like Jerry Lawler, Bill Dundee, Tommy Rich and Rocky Johnson.

MWH Vol 2 features a foreword written by none other than Lance Russell and features commentary by Jerry Jarrett, Jimmy Valiant, Bill Dundee, Jimmy Hart, Lance Russell, Randy Hales, Scott Bowden, Billy Wicks, "Big" Jack Eaton, Tim Dills and Dave Millican. With over 300 pages of programs, this book is a great way to step back in time and see what wrestling used to be.

Memphis Wrestling History Vol II The Programs 1972-1976 (406 pp., B&W & 8.5x11) is available for purchase now. It is priced at $24.99 and is available in print at AMAZON.COM as well as the publisher's WEBSITE. Lastly, I love my UK fans and the book is available for you at AMAZON UK